It might seem like a minor piece of gear, but a hiking shirt is actually a critical piece of outdoor clothing.
While you could just wear any old t-shirt, a proper hiking shirt or tee is designed to protect you from the sun and the elements, keep you comfortable, wick sweat, and minimise that not-so-sweet mountain smell while you live your best life in the outdoors.
Our job here is to help you find the best hiking shirt out there, and we've created this guide to do just that.
After our recommended products below, we'll walk you step-by-step through the ins-and-outs of hiking shirts and what to look for before you buy.
Macpac Men's Ranger Long Sleeve Shirt
Pros: Looks great, recycled materials, moisture-wicking, roll-up sleeve tabs
Cons: Only one colour option
The Ranger is a lightweight hiking shirt made from a recycled polyester blend. This shirt is designed to be comfortable, functional, and durable so you can tackle long days out on the trail.
It has a UPF 50+ rating for excellent sun protection, as well as moisture-wicking material to keep you cool and comfortable in hot weather.
The mesh-lined venting at the side seams and upper back allows for airflow when you're working up a sweat. Dual chest pockets are perfect for storing small essentials like your phone or a map.
The Macpac Ranger has long sleeves with button-up cuffs that keep your arms covered and protected from the sun. For extra versatility, it also features roll-up sleeve tabs that will keep the sleeves in place if you do want to roll them up.
Kathmandu Trailhead Women's Long Sleeve Shirt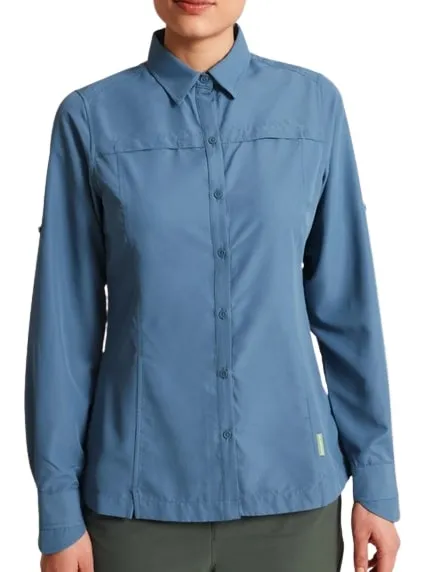 Pros: Comfortable and lightweight, mesh panels for breathability, Polygiene for odour control
Cons: Pocket is quite small
The Trailhead is a versatile hiking shirt that is designed to be worn with a pack.
It's comfortable, lightweight, and absorbs and wicks moisture away from your skin to keep you dry. Its also treated with a Polygiene finish that helps control odour.
The shirt features a collar to protect the back of your neck from the sun, while back and front mesh panels allow for good breathability so that you stay cool on hot days.
It also has a concealed zip pocket near the waistline so that you can store small items like keys or money while hiking.
Macpac Women's Eclipse Long Sleeve Shirt
Cons: Only one colour option
This ultralight women's shirt is made from a nylon/elastane performance blend and is designed for warm-weather hiking.
It has a moisture management system that wicks sweat away from your body, and like the Kathmandu shirt above, is treated with Polygiene odour control technology.
This shirt has a UPF 50+ rating for excellent sun protection, a button-up collar and cuffs for extra coverage, and a hidden zip pocket on the side seam to store your valuables.
The Macpac Eclipse is an excellent choice if you want to hike in comfort without having to worry about sweat or sunburn.
Kathmandu Kangsar Men's Travel Hiking Shirt
Pros: Suitable for hiking or travel, treated with Permethrin to repel insects, two large chest pockets
Cons: Fairly expensive if not on sale
The Kangsar is a feature-packed shirt designed for hiking or travel.
It's lightweight and comfortable and is treated with buzzGUARD for protection against biting insects, to make your time out in the bush a bit more pleasant.
Like most products in this review, the material wicks moisture away from your body to keep you cool and dry in hot and humid conditions. The relaxed fit makes it comfortable to wear while you're on the go.
The collar visor protects your neck from the sun and roll-up sleeve tabs let you adjust the sleeves as needed. There are chest pockets too so you can store your phone, wallet or other items securely while you're on the move.
The back armhole mesh venting helps regulate temperature so you stay comfortable in warm conditions.
Ottie Merino T-Shirt
Pros: 100% Australian Merino, Made in Melbourne, Comfortable, Odour-resistant, Longer fit
Cons: Relatively expensive, No sun protection on arms
This is our new favourite t-shirt for any outdoor activity. It's made in Melbourne from 100% Australian merino wool and is specifically designed for hikers.
The merino fabric is soft and light, but still thick enough to provide some insulation on chilly days.
It wicks sweat away from your skin so you stay dry and comfortable, and it regulates temperature so you don't get too hot or cold. Better yet, it remains odour free, even after several days of use.
The longer length of the Ottie T-Shirt makes it a great option for taller people who don't want their shirts to be too short or boxy. It also means it is less likely to ride up when you're wearing a hiking pack.
When compared to the Icebreaker tee below, this product is slightly heavier in weight (165gsm vs 150gsm), longer fitting (less boxy), and made in Australia vs China.
While the longer fit won't suit everybody, and the price tag may put some people off, we think this Aussie-made tee is a great option for anyone who spends time outdoors.
Icebreaker Merino Tech Lite II Short Sleeve Tee
Pros: 100% Merino, Comfortable, Odor-resistant, Regulates body temperature
Cons: Relatively expensive, No sun protection on arms
The Merino Tech Lite II Short Sleeve Tee is Icebreaker's most versatile merino wool tech tee.
It provides stretch, comfort, breathability, and odor-resistance for just about any adventure you can think of.
Made from 100% merino wool, this tee is not only soft and comfortable but it will regulate body temperature in both cold and hot conditions – perfect for hiking and other outdoor activities.
The North Face Men's Wander Long-Sleeve Top
Pros: Recycled fabric, lightweight and comfortable, long sleeves for sun protection
Cons: No collar to protect the neck, synthetics generally offer less odour control
The North Face Men's Wander Long-Sleeve Top is a standard fit top designed specifically for hiking.
It's made from lightweight jersey-knit fabric for breathability. The recycled fabric also delivers on comfort with an ultra-soft feel.
The North Face's FlashDry technology keeps you cool and dry even in warm conditions, and the side slits at the hem for ventilation will keep you moving comfortably all day long.
The North Face Women's First Trail Shirt
Pros: Stretch fabric, three colour options, zip pocket, DWR finish
Cons: Heavier than other women's shirts featured
The First Trail Shirt is a lightweight, breathable women's shirt designed for hiking. It's made from a four-way stretch-woven fabric, which offers comfort and mobility.
The DWR (durable water resistant) finish provides additional protection against light rain, and the concealed secure-zip chest pocket keeps your valuables safe.
When compared to the Kathmandu and Macpac women's hiking shirts featured earlier, this shirt is heavier in weight. It may not perform as well in very hot conditions but it is likely to provide a bit more warmth and wind resistance in cooler conditions.
This North Face shirt is stylish enough to wear for travel or everyday wear. It comes in a standard fit and has a UPF 50 rating to protect you from harmful UV rays.
Kuhl Airspeed shirt
Cons: Synthetics can smell bad
The Kuhl Airspeed combines all of the benefits and style of a button-up shirt with the functionality of a performance top.
Made with AirVolution fabric, the Airspeed helps protect you from the sun while wicking moisture and drying quickly in the heat.
The Airspeed has knit panels on the back and on the sleeves to allow for natural movement while you hike.
If that wasn't good enough, even though it's made from a nylon/polyester blend, it feels like cotton without any of the negative consequences!
Salomon Trail Runner tee
Pros: Lightweight, Sustainable and natural bamboo fabric, Odor resistant, Moisture wicking
Cons: Little sun protection, Not great for colder conditions
The Salomon Trail Runner is a hiking shirt with a classic t-shirt design.
Made out of a lightweight and breathable bamboo charcoal fabric, the Trail Runner naturally repels odours and dries quickly to keep you comfortable even when you're moving quickly in the heat.
Since it's a t-shirt, the Trial Runner doesn't offer as much protection from the elements as other designs do, but if you like high-octane activities in the mountains, then the Salomon Trail Runner might be the hiking shirt for you.
Arc'teryx Elaho shirt
Pros: UPF 40 protection, Gusseted underarms for mobility, Breathable material
Cons: Synthetic materials can smell bad, Expensive
A light, button-up long sleeve shirt that looks as good in town as it does on the trail, the Arc'teryx Elaho is a super versatile hiking shirt for the mountains.
Specifically designed for trekking and hiking, the Elaho is made with a lightweight, airy, and durable technical fabric.
The Elaho's high-quality fabric breathes well to keep you cool on the trail all while providing you with UPF 40 protection from the sun.
Even though this is a long sleeved shirt, it has gusseted underarms for a full range of motion, making it a great option for your next hiking adventure.
Marmot Accelerate shirt
Pros: Affordable, UPF 30, Reflective, Breathable
Cons: Not as much protection as a long-sleeve, synthetics can smell bad
If you need a high-quality hiking shirt without the high price tag, the Marmot Accelerate might be the shirt for you.
Perfect for high-output activity with its perforated AirExchange fabric, the Accelerate can accompany you on a quick morning trail run or a day out in the mountains.
The AirExchange fabric in the Accelerate is quick-drying and wicking with UPF 30 protection and a reflective covering to keep you visible even at dawn and dusk.
The Marmot Accelerate is a great hiking shirt option for outdoor enthusiasts on a budget!
How to choose the Best hiking shirt
Buying a hiking shirt might seem easy (it's just a shirt, right?) but it turns out that these pieces of outdoor gear are actually loaded with a bunch of high-tech features to keep you comfortable as you charge uphill. Here are some things to look out for:
Material
The main characteristic that differentiates a hiking shirt from something you'd wear around town is the material.
Here are some of the different materials you might see in a hiking shirt:
1. Cotton
Generally speaking, many of our urban-use t-shirts are made from cotton, which is cheap and comfortable.
But, cotton can be dangerous outdoors because it has zero insulating properties when wet – in fact, it actually makes you colder! Thus, it's best to avoid cotton t-shirts in most outdoor settings.
2. Synthetics
Many hiking shirts are made from synthetic fabrics, which are great at wicking moisture and keeping you comfortable, even when wet.
But, they tend to trap odors and will smell pretty horrible after a few days in the mountains.
3. Merino Wool
This wonder fabric is all natural and is great at wicking away sweat on a hot day. It dries fairly quickly and stays warm even when wet.
Plus, it is really good at repelling odors, which keeps you smelling fresh on day 10 of your backpack. But, all these features come at a cost: merino can be quite expensive.
Sun protection
Many high-end hiking shirts actually offer some semblance of sun protection, which is great for preventing sunburns and reducing the amount of sunscreen you need to use.
Shirts that protect you from the sun will have an SPF (sun protection factor) or UPF (ultraviolet protection factor) rating.