Rain jackets are an essential piece of outdoor gear. Whether it's windy or wet, a solid rain jacket can protect you from the elements and keep you moving on your adventure.
That being said, rain jackets come in all sorts of different designs with a variety of technologies that each profess to change the way you hike.
With so much choice, it can be difficult to determine which rain jacket is best for you.
To help you in your search, we've analysed the best rain jackets on the market and assessed them against a range of important criteria including material, features (pockets, vents, adjustable hood, etc.), and weight so you can find the best rain jacket for your needs.
Material: Reflex 2.5 layer outer shell with DWR finish
Weight: 340g
Features: Two zipped hand pockets, adjustable cuffs and hem
Pros: Lightweight, breathable, internal storm flap, bluesign certification, reasonably priced
Cons: Not GoreTex
This jacket is a great choice for anyone who wants to stay dry and comfortable on their adventures. It's lightweight, breathable, and easy to pack away when you're not using it.
The Macpac Dispatch has all the features you could want from a rain jacket: a fully seam-sealed 2.5-layer outer shell with a water repellent finish, adjustable hood, soft chin lining, internal storm flap, adjustable cuffs and hem, two zipped hand pockets, and a breathable hydrophilic membrane.
Material: 70D recycled nylon (outer), 40D recycled polyester (inner lining)
Weight: 410g
Features: 2 zipped front pockets
Pros: Affordable, ripstop nylon shell, 2 zippered pockets, seam-sealed
Cons: Uses DryVent as a waterproof fabric, has mesh liner which adds weight and bulk
The North Face Resolve 2 is a solid rain jacket for casual hikers. Made from seam-sealed ripstop nylon, it offers good protection as an everyday rain jacket and it has two zippered front pockets for stowing essentials.
Our biggest criticisms of the Resolve 2 are focused on the use of DryVent as a waterproof fabric and the inclusion of a mesh liner. DryVent is generally considered to be of lower quality than GoreTex or eVent, though it is often much cheaper.
Plus, the mesh liner, while great for breathability, adds both weight and bulk to the jacket. At 410g this is one of the heavier jackets on our list.
Material: Polyester outer and nylon lining
Weight: 600g
Features: 2 front pockets, 1 hidden chest pocket
Pros: GORE-TEX layer is very waterproof and breathable, Durable Water Repellent (DWR) finish, fully seam sealed, soft brushed fabric on collar and pockets
Cons: Very heavy (600g)
The Kathmandu Bealey Jacket provides all you need to be protected from the elements on your next hike.
The GoreTex layer provides best-in-class waterproofing without compromising on breathability while a fully seam sealed double storm flap adds extra protection for the front zip.
The collar and pockets are lined with soft brushed fabric, adding a layer of comfort for those really cold days.
The hood, bottom hem and cuffs are all fully adjustable, helping you customise the fit and keep wind and rain out.
Other features include a secure hidden pocket on the chest with built-in media cord access and a two way front zip.
Although this is the heaviest jacket on our list, this is a waterproof breathable option that will stand up against tougher weather conditions.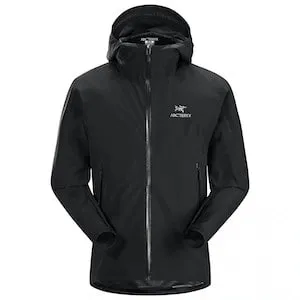 Material: N40r Gore-Tex
Weight: 310g
Features: 2 front pockets
Pros: High performance, great in stormy weather, harness friendly pockets, comfortable
Cons: Limited ventilation, expensive
This waterproof jacket from Arc'teryx is one of the best all-rounders. It is high performance and comfortable while also being compact enough to pack away.
This versatility makes the Zeta SL a jacket that can do everything from walks around town to stormy hikes and backpacking trips.
This breathable jacket includes lots of finer details that help keep the water out including an internal storm flap to keep the main zipper watertight, velcro wrist closures, and a long-lasting durable water repellency.
The hood on the Zeta SL is basic but effective, it is adjustable and has a deep brim to protect your face and edges that don't obstruct your peripheral vision. Unfortunately, the hood is not compatible with a helmet- take a look at The North Face Summit L5 if this is an important feature for you.
Material: 30D Pertex Shield+ Nylon
Weight: 175g
Features: Chest pocket
Pros: Lightweight, breathable, packable
Cons: No hand pockets
If you need a lightweight and easily packable jacket the Outdoor Research Helium II is hard to beat. This is the lightest option on our list and weighs just 175g.
It's a high-performing all-round jacket that offers decent protection without the bulk seen on other jackets we've reviewed.
However, this isn't the jacket to bring when you're facing extreme weather or cold, it simply doesn't offer enough water resistance to handle this.
The Pertex Shield+ offers excellent breathability and has a decent waterproof rating. It is well suited to showers and light rain. The hood design is great as you still get good peripheral vision while wearing it.
One of the downsides to this Outdoor Research jacket is that it doesn't have any hand pockets. It does have a pocket on the chest for keeping belongings safe but you'll need to wear gloves to keep your hands warm.
Material: NanoPro
Weight: 293g
Features: 2 front pockets
Pros: Affordable, light and packable, pit zips for ventilation
Cons: Uses Marmot's proprietary membrane NanoPro
The Marmot Precip is a classic affordable rain jacket. It's a do-it-all jacket that performs well in most situations, especially hiking.
It's easy on the wallet, light, and packable, so it's great for a new hiker who doesn't want to commit to an expensive shell just yet.
This rain jacket has pit zips for extra ventilation in its already highly breathable design. The main downside to this jacket is that it uses Marmot's proprietary membrane, NanoPro, instead of Gore-Tex and eVent.
While this reduces the jacket's price, NanoPro isn't nearly as waterproof in a deluge as some of its more technologically advanced counterparts.
Material: GoreTex and Polyester
Weight: 326g
Features: 2 chest pockets
Pros: 2-layer Paclite GoreTex, fully seam taped, pit zips for ventilation
Cons: No hand pockets – chest only, expensive
The Knife Edge is a solid hiking rain jacket from American gear manufacturer Marmot.
Built using 2-layer Paclite GoreTex and water-resistant zippers, it's great for sun showers and deluges alike. It's even got pit zips for extra ventilation on warm days when you're working hard.
Some hikers might not enjoy that this jacket doesn't have any hand pockets – rather it just has two large chest pockets. It's also a bit on the expensive end of the rain jacket spectrum, too.
Material: 50D Recycled nylon
Weight: 340g
Features: 2 front pockets
Pros: Durable, versatile, good in heavy rain
Cons: Doesn't pack down very small, limited freedom of movement
The Torrentshell 3L Jacket from Patagonia is an update on the popular 2.5 version. This new version has a 3 layer design that makes it more durable than before. The addition of the internal tricot fabric means the jacket is able to handle sweat easier and protects the waterproof membrane so it lasts longer.
This jacket weighs 340g so it is one of the heavier items on our list (the Outdoor Research Helium II weighs just 175g). However, it is tough enough for wet weather backpacking trips and isn't too heavy to bring it on day hikes either.
This Patagonia waterproof jacket is focused on functionality and will keep you dry while hiking. It can handle the rain and wind without an issue so is good in stormy conditions.
We appreciate the added features such as the pit zips that help with heat and moisture, the fleece patch on the back of the collar to absorb sweat, and the fact this jacket can be packed down into its own pocket.
If you aren't too worried about weight and you want a versatile jacket that provides excellent weather protection, the Patagonia Torrentshell 3L is a good choice.
Material: 20D x 30D Futurelight Recycled Polyester
Weight: 340g
Features: 1 chest pocket and 1 internal drop pocket
Pros: 3-later hardshell, helmet compatible hood, soft and comfortable
Cons: No front pockets, no pit zips
This jacket is a high-performance option with stripped-back features. If you need to save weight while hiking in the mountains, the Summit L5 is a good option.
The Futurelight fabric is surprisingly soft and stretchy, this makes the waterproof jacket comfortable to wear and the shell doesn't make much noise while you walk.
This is one of the only rain jackets on our list that has a hood that is compatible with helmets so it's a good choice for cycling and climbing activities. You can also adjust the hood to make sure it feels snug and comfortable too.
The chin guard has a layer of soft material on it so it feels comfortable against your face. One of the downsides to this jacket is the minimalistic features; you won't find hand pockets or pit zips on the Summit L5.
The fit is also slightly unusual, it is baggier and longer than many other jackets listed meaning the jacket is most comfortable when wearing insulation layering underneath.
Material: GoreTex Nylon
Weight: 220g
Features: 1 inner pocket
Pros: Super lightweight, dries incredibly fast, breathable, great for trail runs
Cons: Limited features, no hand pockets
This super lightweight jacket weighs just 220g making it the second lightest on our list. It is durable and one of its defining features is that it dries extremely fast.
This is the best lightweight waterproof shell for trail running. It uses GoreTex Shakedry material that is both windproof and breathable. You can wear it comfortably under a backpack and it is abrasion resistant so won't be damaged by your vest or bag.
The adjustable hood can be rolled down into a collar when it is not needed. There are limited pockets on this jacket with just one inner zip pocket for storing valuables.
Although dark in colour, there are reflective details to help keep you visible when running in the dark. This is a more expensive option but offers everything a runner needs.
Material: N70p Gore-Tex
Weight: 425g
Features: 2 hand pockets and 1 chest pocket
Pros: 3-layer Gore-Tex with C-KNIT technology, moderate weight (425g), highly water-resistant "WaterTight" zippers on pockets, fully seam taped, designed to fit well under a backpack
Cons: Very expensive
Yet another great option from Arc'teryx, the Zeta AR is an even more durable trekking-focused version of the Beta SL. With a highly durable 3-layer Gore-Tex construction and highly water-resistant zippers, the Zeta AR is ready to stand up to whatever you throw at it.
The Zeta AR is even designed to fit well under a backpack so you don't have to worry about having it ride up under your hip belt. You might want to grab a seat before shopping for the Zeta AR though – this rain jacket certainly isn't cheap, but it's worth every last penny.
Rain Jacket Comparison Table
| | | | | | | | | | |
| --- | --- | --- | --- | --- | --- | --- | --- | --- | --- |
| Rain Jacket | Our Verdict | Material | Denier | Weight | Hand Pockets | Chest Pockets | Internal Pockets | Hood | Packable |
| Macpac Dispatch | Our Top Pick | Reflex 2.5, hydrophilic membrane, DWR finish | n/a | 340g | 2 | 0 | 0 | Adjustable | No |
| The North Face Resolve 2 | Runner Up | Recycled nylon and recycled polyester | 70D x 40D | 410g | 2 | 0 | 0 | Adjustable and stowable | Yes |
| Arc'teryx Zeta SL | Best Technical Jacket | N40r Gore-Tex | n/a | 310g | 2 | 0 | 0 | Adjustable | Yes |
| Patagonia Torrentshell 3L | Most Versatile | Recycled nylon | 50D | 340g | 2 | 0 | 0 | Yes fixed | Yes |
| Kathmandu Bealey | Great for Tough Conditions | Polyester and nylon | n/a | 600g | 2 | 0 | 1 | Adjustable | No |
| Outdoor Research Helium II | Lightest Option | Pertex Shield+ Nylon | 30D | 175g | 1 | 0 | 0 | Adjustable | Yes |
| Marmot Knife Edge | Great for Hiking | Gore Tex and polyester | n/a | 326g | 2 | 0 | 0 | Adjustable with peripheral cord | No |
| The North Face Summit L5 | Best Helmet Compatible Jacket | Futurelight recycled polyester | 20D x 30D | 340g | 1 | 0 | 1 | Helmet compatible & adjustable | Yes |
| Kathmandu Zeolite ShakeDry | Best for Trail Running | Gore Tex, Nylon | n/a | 220g | 0 | 0 | 1 | Adjustable and stowable | Yes |
| Marmot Precip | Affordable Classic | NanoPro | n/a | 293g | 2 | 0 | 0 | Adjustable and stowable | Yes |
| Arc'teryx Zeta AR | Most Durable | N70p Gore-Tex | n/a | 425g | 2 | 1 | 0 | Adjustable | Yes |
Rain Jacket Buying Guide
We know that choosing a rain jacket can be difficult work. This buying guide will help you know what to look out for when comparing options and choosing your new rain jacket.
We discuss everything from the fabric used to the layers, fit, and packability.
Waterproof Fabric
Modern rain jackets come with one of a variety of different waterproof fabrics which are designed to keep you dry.
These fabrics are generally made from an ePTFE (polytetrafluoroethylene) membrane, which is stretched to create pores that only allow water vapour to pass through.
This means that the jacket will breathe when you sweat but won't allow rainwater to infiltrate your inner layers.
The most popular and famous of these waterproof/breathable fabrics are made by Gore-Tex.
EVent is another popular ePTFE-based material that is used by a number of different gear companies.
The main difference between eVent and Gore-Tex involves the coatings and layers that are added to the ePTFE membrane.
Essentially, eVent is generally more breathable but it requires more frequent washing to maintain this breathability.
Thus, if you don't plan to wash your jacket regularly, you're best off with Gore-Tex, which maintains its breathability for longer.
Some gear companies use their own proprietary waterproof membranes in their products like H2No, BDry, and OutDry.
While many of these are quite good, the most time-tested and reliable membranes are those made by Gore-Tex or eVent. However, these proprietary membranes tend to be cheaper than Gore-Tex or eVent.
Rain Jacket Layers
Rain jackets are constructed using either 2, 2.5, or 3 layers. While this may seem trivial, the layering of your jacket has a huge effect on its breathability and durability.
3 Layer
Three layer construction includes a face fabric (with a durable water repellent treatment), a waterproof membrane, and an inner lining.
You can't actually see these layers (they're smooshed together) but the inner lining is where the differences lie.
In a 3-layer fabric, the inner layer protects the membrane from being clogged up with sweat and oil, which reduces breathability. 3-layer jackets are the most durable over time but do cost and weigh more.
2.5 Layer
2.5 layer fabrics have a very thin inner liner, which has many of the benefits of the full inner liner while also being more lightweight and breathable.
But, 2.5 layer jackets must be washed more frequently to maintain this breathability.
2 Layer
A 2-layer construction doesn't have that inner liner. Instead, they have inner mesh liners, which, while they breathe well, are too heavy and bulky for active outdoor adventure.
They are cheaper, but it's best to resist the temptation and get a slightly more expensive jacket.
Key Features
Look out for these top features when choosing your new jacket:
Hood
The hood should be adjustable so you can pull it tight around your head and face to stop the wind and rain from getting in.
Many of the higher-end hoods are designed in a way that they won't obstruct your peripheral vision.
Good hoods also have a peak that helps to keep the rain off your face during hikes. Other factors to consider include whether or not it can be rolled up and stowed in the collar.
If you are a climber or a cyclist you will want a helmet-compatible hood that comfortably fits over the top of a climbing helmet or cycling helmet.
Pockets
Outer pockets are useful for keeping your hands warm but make sure the zips are covered to prevent leaks. Inner pockets are ideal for keeping your valuables safe.
Storm Flaps
This is a strip of material that protects the main zip from leaks. Storm flaps are a small but important addition to rain jackets as an unprotected zip can be a key area for leaks.
Adjustable Cuffs
Waterproof jackets with adjustable cuffs help to stop water from getting into your sleeves. It also makes it easier to fit the jacket sleeves over gloves or additional layers.
Hem Drawcord
Not all waterproof jackets have an adjustable hem but it is a definite plus that helps produce a snug fit to keep you warm and dry.
Taped Seams
The seams are an area that can potentially leak so waterproof jackets help to counter this by taping the seams to seal and protect them.
Chin Guard
The chin guard is a soft piece of fabric that stops the zip and fabric from rubbing against your face and causing discomfort.
Weight & Packability
There are rain jackets available in all categories, with the jackets we have reviewed above ranging from 175g – 600g. If you are going backpacking then you'll want to save space and reduce weight by choosing a lighter jacket.
Many lightweight jackets come with a stuff sack or can be stuffed into their own pocket to make them as small as possible for storing in your kit bag.
Fit
With outdoor gear, there are 3 main fit types that you will come across:
Active Fit – this is a slim-fit jacket that gives you enough room to wear a thermal layer underneath.
Relaxed Fit – most everyday jackets have a relaxed fit. This is not slim or fitted and is often slightly longer in length to offer extra protection.
Technical Fit – a technical fit jacket is a higher-end option that fits tighter while still offering freedom of movement. The length is shorter than a relaxed fit and the pockets will usually be higher so you can access them while wearing a harness. If you need a high-performance jacket for hiking and climbing, it will probably be a technical fit.
Durable Water Repellent (DWR) Treatment
The Durable Water Repellent Treatment is applied to the outer fabric of most waterproof jackets.
This treatment helps to resist and bead up water to improve the overall water-resistance of the fabric.
It helps to stop the outer shell from becoming damp which in turn ensures the breathable membrane continues to be breathable.
Care & Maintenance
A well-cared-for rain jacket will last longer and perform better.
If your jacket is packable then it is best to only pack it down for short periods of time. Always unpack the jacket at the end of your trip and when you're home store it open rather than packed away. This helps to prolong the DWR and overall durability of the waterproof jacket.
If you need to wash and dry the jacket, it is important to check the care requirements to ensure you don't damage it.
Most waterproof jackets can be washed in a washing machine in a cold or delicate wash with a small amount of powder detergent. It's generally best to avoid using liquid detergent and fabric conditioners as they can damage the material and impact its properties.
Once washed, hang your jacket up to air dry. If you've been using your jacket for a long time it might start to lose its DWR treatment.
This is something that can often be safely reapplied as a way of breathing new life into an older jacket. There are spray-on products available that you can use to do this.