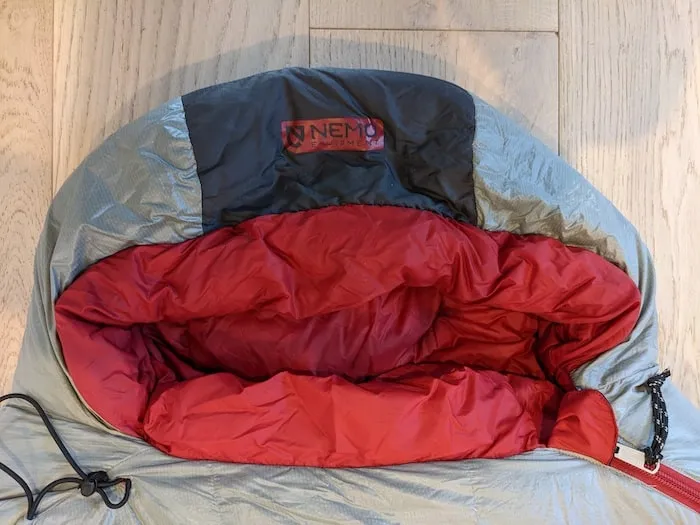 If you enjoy overnight hikes, you know how crucial the right sleeping bag is. A bad sleeping bag can ruin an otherwise enjoyable trip.
On three recent trips, I've been testing the Kayu, Nemo's lightest sleeping bag.
In this review, I cover size, weight, warmth, comfort, and features, to help you decide if the Nemo Kayu is right for you.
Who is this sleeping bag for?
The Nemo Kayu sleeping bag is for ultralight backpackers who want to cut down on weight but not comfort.
It features a thermally efficient design with 800-fill power down insulation, along with a carefully tailored hood, foot box, and body, that optimally keeps in warmth.
The Kayu also features clever additions like a waterproof foot box to protect from tent condensation as well as Nemo's "Thermo Gills" – zippers that allow you to extend the useable temperature range of the sleeping bag without letting in drafts.
Check Nemo Kayu price at Wildfire Sports
How I tested the Nemo Kayu 15
Before sharing my thoughts on this sleeping bag, I was keen to test it in a range of conditions.
Prior to writing this review, I've used the Nemo Kayu:
For 5 nights in the Kosciuszko National Park in December (Average High/Low 14°/5°C although I had multiple nights below zero)
For 2 nights on the NSW coast near Eden in December (Average High/Low 22°/13°C)
For 3 nights in the VIC Alpine National Park in February (Average High/Low 26°/11°C)
During these hikes, I've used the Nemo as my primary sleeping bag so at this point feel like I've used it fairly extensively.
I've used it in a wide range of temperatures including sub-zero as well as warm summer nights, to get a good idea of how it performs in different conditions.
Size and Weight
The Nemo Kayu is a highly compressible and lightweight sleeping bag designed for hiking.
It packs down small and can be compressed down to a volume of 5.9 L, which is 31 x 18 cm (Size Regular) when stuffed into the included compression sack.
Weighing in at just 985g (Size Regular), it is well-suited for multi-day backpacking.
There are certainly sleeping bags that weigh less (ultra-light bags will be aggressively tapered to cut weight) but the Kayu treads a fine line between performance and comfort.
The small size and low weight are achieved via high-end nylon fabrics along with 800 fill power down.
Fill power is a measurement that indicates the quality of down. It tells us how much loft one ounce of down will produce when it is filled with air. The higher the fill power number, the greater the loft and the more effective it will be at insulating.
Warmth
The Nemo Kayu 15 sleeping bag is designed for a range of weather conditions.
With the help of Thermo Gills, an innovative ventilation system, and a durable water-repellant finish on the shell fabric, it works well as a 3-season bag.
One of the trickiest parts of buying a sleeping bag is wrapping your head around the temperature ratings.
The "15" in the name of the Kayu 15 refers to its temperature rating in degrees Fahrenheit. This translates to -9.4 degrees Celcius.
Traditionally in the U.S., a sleeping bag's rating indicates the lowest temperature at which the sack will keep the average sleeper warm (i.e., a 20°F bag should keep you comfortable down to 20°F). – Backpacker.com
However, more recently, sleeping bag manufacturers have been including EN 13537 ratings, which is a standardized rating system developed and used in Europe.
The EN rating includes the following temperatures:
Comfort: The comfort rating is the temperature at which a standard adult woman can sleep in a relaxed position. The rating is based on a standard woman, since women have a lower tolerance to the cold than men.
Comfort Limit: The comfort limit rating is the temperature at which a standard man can sleep in a curled position without waking up.
Extreme: The lowest temperature at which a standard woman can remain for six hours without risking death by hypothermia. At this temperature sleep will be very uncomfortable, and the risk of frostbite is high.
The Kayu 15 includes the following EN 13537 ratings:
Comfort: -3°C
Limit: -8°C
Extreme: -25°C
Personally, I find these ratings to be quite generous.
I had multiple nights at around 0°C in Kosciuszko National Park, with multiple layers of merino clothing, and was pretty uncomfortable.
Granted, I was in a 3 season tent, so wind chill is also a factor. But this sleeping bag isn't designed to be used in snow tents.
I wouldn't feel comfortable taking this sleeping bag on a trip where I expected temperatures to be below zero. I would recommend it for overnight lows in the range of 2 to 15°C.
Check Nemo Kayu price at Wildfire Sports
Comfort
I've really enjoyed testing the Nemo Kayu 15. The mummy shape keeps you warm but also allows room for movement and turning during the night.
The Thermo Gills on the Kayu are a clever addition that allow you to regulate your body temperature by opening or closing them to vent heat when you feel too warm.
On warm nights you can sleep without the hood and with the Thermo Gills open, making this a very versatile sleeping bag.
Features
Sculpted fit – The mummy shape is designed to be both comfortable and efficient. It is intended to improve thermal efficiency and reduce weight.
Closely articulated hood with internal draft collar and draft tube– A hood is a must-have for cold weather; it keeps the heat inside your bag where it belongs. The internal draft collar helps prevent warm air from escaping at night. The draft tube is useful for keeping out drafts that would otherwise make their way into your sleeping bag through the zipper.
Waterproof, breathable hood and footbox – No one wants condensation on their head or feet in the middle of the night! These features protect against that by protecting from tent wall condensation which could otherwise cause dampness in these areas, potentially making you cold at night.
Thermo Gills – This clever feature lets you regulate your sleeping bag's temperature. Thermo Gills allow you to increase the temperature range of your sleeping bag without adding weight or compromising packability.
Zippered storage pocket for valuables – Whether they're valuable to others or just valuable to you personally, knowing that there's a safe place within arm's reach is a nice thing to have during an overnight trip!
Responsibly sourced down – RDS ensures that birds are not live-plucked or force-fed during the production of down. It also guarantees proper animal welfare conditions throughout the supply chain.
Treated with Hydrophobic Down – This DWR coating further maintains warmth when dampened by morning dew or unexpected showers while backpacking.
Verdict
The Nemo Kayu 15 is an impressive 3-season down sleeping bag that comes at a fairly reasonable price. It's is a great option for backpackers looking to sleep in comfort while keeping weight and bulk to a minimum.
It packs a ton of features into a compact size and offers impressive performance while out on the trail. The Kayu has a great level of warmth and comfort for the weight and size, as well as many extra features that will help you make the most out of your experience.
Also, the RDS certification ensures that all animals used in making this bag are treated humanely.
One thing to keep in mind when selecting your sleeping bag is the temperature ratings. As mentioned earlier, I wouldn't recommend most people plan to use the Kayu down to its comfort rating of -3°C. In my experience, it's more suited to lows in the 2 to 15°C range.
Overall, I highly recommend the Nemo Kayu.