A travel tripod is an essential piece of kit for the photographer on the move. It provides stability for the camera and allows the photographer to capture clear photographs using slow shutter speeds (long exposure).
Slow shutter speeds are required for low-light conditions, astrophotography, getting that beautiful wispy look into flowing water, light trails, and usually at sunset or sunrise.
They are also used when creating HDR images by capturing the exact same scene multiple times at different exposures.
It can, however, be difficult to navigate the world of travel tripods and understand the various factors you should consider. Fortunately, we've created this detailed buyers guide to help you find the best one for your needs.
After the summary table below we discuss the key things to look out for when choosing your tripod, followed by reviews of the best products on the market in Australia.
Our top pick: MeFOTO Globetrotter Air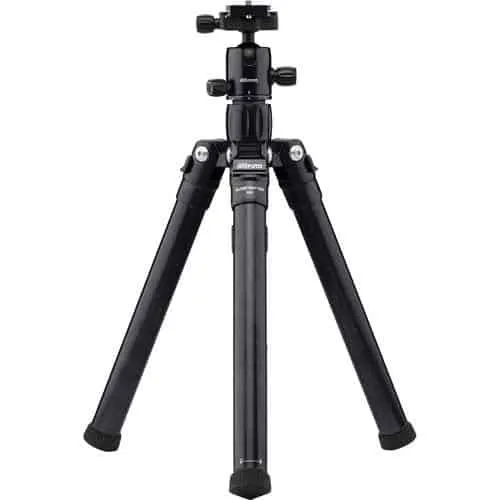 The MeFOTO Globetrotter Air Orange is aimed at the enthusiast DSLR and smartphone photographer.  
It has an excellent folded travel size coming in at least 9cm shorter than the others reviewed.
Extra features include the ability to remove the centre column and use it as a stand-alone selfie stick, a folding smartphone adapter and a spring-loaded hook in the bottom of the centre column for hanging weight to achieve extra stability.
Load Capacity: 7.9 kg
Materials: Aluminium
Collapsed Size: 31 cm
Weight: 1.45 kg
Head: Ball
Pros
Folds up small for travel
Centre pole converts to selfie stick
Generous maximum height
Cons
Aluminium is not as rigid as carbon fibre
Author's note: This travel tripod is my Top Pick due to the small packing size that it folds down to, the generous maximum height and the extra features.
Upgrade pick: Manfrotto BeFree Advanced Carbon Tripod
The Manfrotto BeFree Advanced Carbon Tripod with Ball Head is a great mix of portability, easy set-up, solidity and operation.
Manfrotto is a trusted brand name when it comes to tripods and it's unlikely to let you down.
Load Capacity: 8 kg
Materials: Carbon Fiber
Collapsed Size: 41 cm
Weight: 1.3 kg
Head: Ball
Pros
Folds up small for travel
Extremely lightweight
Durable construction material
Trusted brand                                         
Cons
Author's note: This tripod is my pick for best quality! Manfrotto is a trusted brand when it comes to tripods and the carbon fibre construction and extreme light weight are a huge bonus.
Best value: K&F Concept Compact Travel DSLR Tripod 
The K&F Concept Compact Travel DSLR Tripod is a good choice for those on a budget and who don't mind straying from brand names.
It's surprisingly lightweight making it ideal for travel and although it doesn't come loaded with extra features, it has one great one!  
The centre column can be inverted giving you the ability to take extreme low angle and macro photography.
Load Capacity: 8 kg
Materials: Aluminium
Collapsed Size: 46 cm
Weight: 1.13 kg
Head: Ball
Pros
Extremely lightweight
Affordable
The Centre column inverts for low angle and macro photography                       
Cons
Aluminium is not as rigid as carbon fibre
Not as sturdy as other tripods
Folded length could be better
Author's Note: This tripod is ideal for someone just starting out on a limited budget. It's not as sturdy as the moreexpensive tripods but the extreme light weight and ability to invert the centre column is a huge bonus. This tripod is my top pick for under $100!
Manfrotto BeFree Advanced Tripod Aluminium 4s Twist 
This tripod is similar to the one featured above but with an Aluminium frame which significantly reduces the cost.
If you are happy to go with an Aluminium frame over Carbon Fiber, this is a great choice.
Load Capacity: 8 kg
Materials: Aluminium
Collapsed Size: 40 cm
Weight: 1.54 kg
Head: Ball
Pros
Trusted brand
Folds up small
Cons
Aluminium is not as rigid as carbon fibre                                                         
Benro Travel Angel Tripod 
The Benro Travel Angel Tripod comes with some great features!
In particular, one of the tripod legs can be converted into a monopod for extra versatility and a set of spiked feet is included for increased stability when shooting outdoors.
Load Capacity: 8 kg
Materials: Aluminium
Collapsed Size: 42 cm
Weight: 1.77 kg
Head: Ball
Pros
Legs convert to a monopod
Spikes for feet included                                                                  
Cons
Aluminium is not as rigid as carbon fibre
A little on the heavy side compared to other travel tripods 
What to Consider When Choosing A Tripod For Travel 
The Head
The head of the tripod is the part that holds your camera securely in place. There are a few different options available but the most popular are pan-tilt heads and ball-heads.
A pan-tilt head is the most common type and is usually what you will find on a lower-priced tripod.  
It has either a single handle for horizontal movement or dual handles to move vertically as well as horizontal. They generally take longer to get into position than a ball-head.
A ball-head comes at a higher price but is more flexible than a pan-tilt head and provides smoother operation whilst keeping the camera secure.
A ball-head is generally a better option for a travel tripod as it's quicker to get set up and that beautiful sunset doesn't wait.
Construction Material
Tripods are commonly made from plastic, aluminium or carbon fibre.
Plastic is the least expensive and also the least durable. It's usually only found on very cheap tripods.
Aluminium is the most common, but can add to the weight of the tripod which often isn't helpful when travelling.
Carbon fiber is generally considered the premium construction material as its both durable and lightweight. This is reflected in the higher price tag for a Carbon fiber tripod.
Legs
A Tripod has three legs which expand and lock into place by either a threaded twist lock system or a lever system.
A twist lock system is where you twist the leg to pull it out and twist it in reverse to lock it in position.
A lever system is where you open the lever to pull the leg out and close it again to lock it.
A tripod is not to be confused with a monopod which only has one leg! More about that here.
Feet
If you're planning on taking photographs in rough terrain or snow, it's worth using a system that allows for the changing of the tripod feet.
Tripods usually come standard with a non-slip rubber foot but some tripods allow these to be changed to spikes when required to hold the tripod in the ground more firmly.
Collapsed Size
The collapsed size of the tripod is how long it measures when everything is folded up.  
This is a particularly important consideration for travelling when you are generally short on space.
Weight And Load Capacity
Weight refers to how much the tripod weighs itself and load capacity refers to how much the tripod can carry.
If you're carrying some pretty heavy zoom lenses for shooting wildlife, you need to make sure the tripod can support the weight.
There is no point in spending thousands on a camera and lenses only to have the tripod collapse under its weight of it and break it.
In terms of the weight of the actual tripod, this is really a personal choice of what you are comfortable carrying.  
Bear in mind that the lightest tripod available will probably not hold up in windy conditions very well.
Verdict
The tripods in this review will satisfy a wide range of travel photographers and budgets, including those who are just getting started.
When travelling or getting about outdoors, reduced weight and the ability to fold up small are important considerations.
Our top choice in this review is the MeFoto Globetrotter Air.  This tripod has a generous maximum height, folds up at least 9cm smaller than the others reviewed and although not the lightest tripod, still comes in at under 1.5kg.
The built-in selfie stick and smartphone adapter are useful features and the price is reasonable when compared to the other tripods.